Jacksonville Termite Control
Termites eat wood and can cause great structural damage to your home if left untreated. A typical homeowner's insurance policy does not cover destruction caused by termites, even though they cause billions of dollars in damage to homes throughout the United States each year. Our inspection and termite treatment program can help you understand the threat of termites and take the necessary steps to protect your home. Our expert Jacksonville termite control service and surrounding areas.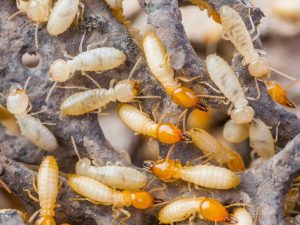 We offer termite bonds and termite treatments for commercial or residential customers as well as treat subterranean and dry wood termites. We have the most innovative products at our utilization to free your home of all termites and wood-destroying organisms (WDO).
Termite Inspection
We thoroughly inspect your home or business, looking for signs of termite infestation. Some of the things we look for are:
Mud tubes built for traveling above ground
Damaged or hollow-sounding wood
Pinholes in drywall or wallpaper
Small piles of sawdust
Piles of small wings
Other specific termite indicators
Jacksonville Termite Treatments
For Jacksonville Termite Control, we create an effective treatment plan that's right for your home or business. This can include:
Exterior Protection: we create a continuous chemical barrier around the exterior of your home or building to keep termites from entering.
Direct Contact: when possible, we apply chemicals directly to the pests.
Insect Growth: we apply chemicals that duplicate the insect's natural hormones to disrupt their growth and development.
No Tent/Fumigation Option
We are the only company in North East Florida that offers a no tent/fumigation treatment. We partnered with XT-2000 to revolutionize termite treatments. You will not have to leave your home for treatment or be in contact with dangerous treatments like fumigations. Unlike fumigation, there is no preparation that you have to do; we do it all for you. Here are some YouTube links from XT-2000 demonstrating the process: